Checkout -

Green Optical Fiber 600/60mb internet connection in Spain



-
Fibre availability and packages differ depending on which area of Spain you are in – contact us for a free address check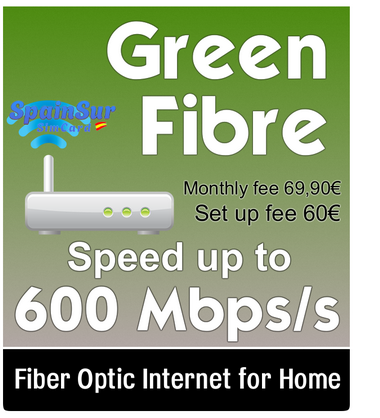 Green Fibre 600/60 Mbps/s - Internet in Spain, delivering superfast broadband speeds of up to 100Mbps/s. This means there's no more battling for bandwidth, even in the busiest home or office.
-

Installation price: 60€


Monthly payment (Direct Debit Bank SEPA): 69,90€


Downloading speed: up to 600 mb/s

Upload speed: 60mb/s


Network: Movistar


Installation time: up to 7 days

To connect Optical Fiber internet you need a Bank Account


All prices VAT included (IVA/IGIC/IPSI)

Contract: Committed to stay with a terminanation fee (before 6 months). If the router is not returned there is a penalty of 185€
-
-
-
Fibre availability and packages differ depending on which area of Spain you are in – contact us for a free address check
For those who need to surf as fast as possible. Fibre optic network is growing faster and faster throughout Spain.
-
Broadband on fiber

in Spain
The best Solution for your Home in Spain, Fiber internet with fast speed

What is Fiber Home?

Fiber Home in Spain is an end-to-end optical fiber network to your house that delivers superior download and upload speeds than ADSL over copper network. It is also more robust and stable. With Fiber Home in Spain you can watch movies in HD, do online gaming, download larger files and more.

Key Features

Very fast download - Download large files in less time.
Enhanced reliability - Consistent and stable connectivity on fiber that provides you a high quality of Internet experience.
Improved efficiency - Reliable bandwidth speeds can make many day-to-day activities run more smoothly and take full advantage of the speed subscribed to.
-

Now serving ALL of Spain with Fibre


Download and stream at lightning-fast speeds


NO restrictions on data


Suitable for the busiest homes and offices
--
For all questions please email us:

surelfaro@gmail.com, info@4gsim.es