MOVISTAR - SPANISH PREPAID SIM CARD - Pay As You Go - PayG
Habla 6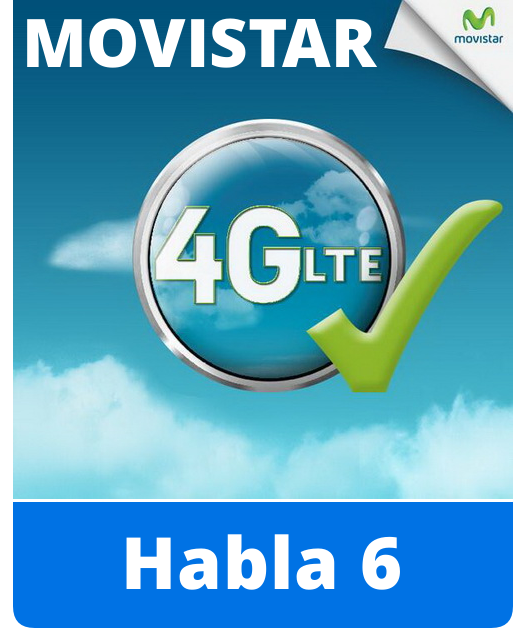 - Movistar prepaid sim card: standard rate Habla 6 (Pay As You Go-PayG)
- Sim card with initial balance: 10€
- Universal 3 in 1: stand., Micro, nano, calls in Spain, or in European countries.
- SIM Card Activation: To activate the SIM card you need the NIE/DNI/Passport and date of birth. Activation on the day you need.
- Access Point (hotspot): Yes
- SIM card expiration date: 6 months (after the last balance recharge)
- Daily 4G Internet Rate: 400MB for 4€ on the days you connect.
- Calls to any Spanish Mobile and Landline Phones: € 0.06 / min *
- All incoming calls: 0€
- SMS: 0,18€/SMS*
- Call connection: 0,30€
- International calls: from Spain to more than 40 countries from 1.21 cts / min. Establ. Call: 36.30 cts. (VAT incl.).
- You can use 4G Internet in the following countries for no more than 2 months in a row: Germany, Austria, Belgium, Bulgaria, Croatia, Cyprus, Denmark, Estonia, Finland, France, Gibraltar, Greece, Guadeloupe, French Guiana, Holland, Hungary, Ireland, Iceland, Italy, Latvia, Lithuania, Liechtenstein, Luxembourg, Malta, MartiniqueIslands, Monaco, Norway, Poland, Portugal, Czech Republic, United Kingdom, Reunion, Romania, San Marino, St. Martin and Sweden.
Enjoy talking with everyone and at any time
With the Movistar Habla 6 prepaid card you will have national and international calls without fees or a commitment to recharge. National calls to fixed and mobile of any operator and at any time at 6 cts / min (VAT included). Call establishment: 30 cts (VAT included). International calls to fixed and mobile from 1.21 cts / min (VAT included). Call establishment: 36.30 cts. (VAT included). See price detail by country here.. See detail of price by country here
EU Roaming: includes calls and messages to and from any country in the European Union, Iceland, Liechtenstein and Norway (European Economic Area) and data traffic originating in these countries. The prices and conditions will be the same as those defined for national traffic. Calls and international messages, calls addressed to special rate numbers and additional charges (905, 80X).
Why is it better with Movistar?
In Movistar we have the largest network of communications in national territory, so you can enjoy the best mobile quality wherever you go. In addition, we have an ample catalog of 4G smartphones that you can acquire free or with a new rate and pay with your card or in comfortable terms.

Note: We will register for you with your personal dates provided this SIM card. We need the ID card number or passport and date of birth in order to activate it, after making the purchase
-------------------------------------
We ship worldwide, to your home, hotel or where you like!