Prepaid 300GB DATA SIM Super Fast 4G Internet in Spain

FOR 30 DAYS
4G ON SMARTPHONE, IPAD, USB MODEM, TABLET, NETBOOK OR WIFI/MIFI ROUTERs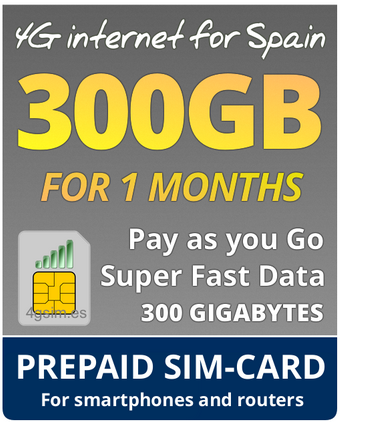 For all who need a mobile Internet in large quantities in Spain for work or leisur.
300 Gigabytes (30 DAYS) Super Fast 4G Internet in all Spain including: Tenerife, Gran Canaria, Fuerteventura, Lanzarote, Homer, Palma, Hierro, Mallorca, Palma de Mallorca, Menorca, Ibiza, Formentera, Ceuta and Melia.
Prepaid Sim: 4G Internet 300GB for 30 days in Spain (Pay As You Go-PayG)
Renewal price (renewal): After 30 days the internet can be renewed at a price of 82€ per month.
The price includes: 300GB for 4G internet in Spain 30 days.
Universal SIM 3 in 1: stand., micro, nano
Activation: On Any Date You Need). We will register for you with your personal dates provided this SIM card. We need the ID card number or passport and date of birth in order to activate it.
Access Point (hotspot): allowed.
SIM card expiration date: Without a renewal of the Internet after 30 days, the SIM card will turn off, the second time the SIM card cannot be activated.
1 gigabyte = 1024 megabytes, then 300 GigaByte = ‭307 200‬ Megabyte
4G lte Internet is a high-speed communication technology, the Internet is capable of speeding up anywhere in Spain up to 300 Mbps
/
The leading Spanish operator provides the users with the regular and stable signal coverage across the whole territory of Spain, what makes possible to connect to the Internet from private homes, apartments, flats or from the office on any territory of Spain.
Download speed:

up to 300 Mbps
Upload

speed

:

Up to 150Mbps
The maximum speed in the network + 4G in Spain is up to 300Mbps. Average speed depends on a number of factors: equipment characteristics; terrain features and meteorological conditions.

We offer you the fully wireless Internet connection and give you an access to the world of 4G Internet on any territory of Spain. ♥- Access Internet on the largest cellular network in Spain ♥- Have your own wireless Internet connection all around Spain ♥- Keeps you connected everywhere in Spain thanks to the extensive 4G LTE and 3G network ♥- High speed internet connection ♥- No configuration required ♥- Mobile 4G Internet For Boats and Yachts in Spain. ♥- Prepaid Mobile 4G Internet for travel on a Caravan in Spain ♥- Prepaid Mobile 4G internet for Camping in Spain ♥- Mobile 4G Internet for watching TV. Youtube, Netflix and other videos in Spain

The residents of Spain, whose houses remained unconnected to ADSL Internet, have now the possibility to obtain full reliable access to global network in Spain or to connect to fast 4G Internet as well. 4G Internet is nowadays the most progressive and the fastest communication technology. 4G Internet will give you an opportunity to realize an instant search in global network and is able to keep the speed up to 300Mb/s. Using fast 4G Internet you will be able to make an instant load of any websites, listen to your favorite music and watch films online, and to download any files as well. - Works on any territory of Spain - Super Fast and instant 4G Internet. - Being always connected to the Internet in Spain is the best solution! - Delivery to any territory of Spain within an hour is available. - 4G SIM-CARD unlimited It works on all 4g-3g Devices - 4G-3G Internet provider guarantees you the secrecy of your personal data and has a high level of protection from any illegal access. - Best 4G internet services in Spain
The SIM card is sent deactivated, for the activation of the same it is necessary that we provide a scanned (Foto)copy of the DNI / NIF / NIE / PASSPORT of the owner of the line. Without this documentation, the card can not be activated.
This card is recommended for: Customers who need lot 4G Internet in Spain.
We ship worldwide, to your home, hotel or where you like!

Sim-card is activated at the date you need! With tracking and drop-off without signature. If you prefer delivery by UPS Extra with required signature, an additional cost will be applied, so please contact us before choosing this method. Whichever shipment choice you make, we will provide you with a link to track your package online.
Possible order for Whatsapp, Telegram: +34 634 364 062