3G Internet and Calls for 72 countries, prepaid Sim-Card, Includes 10€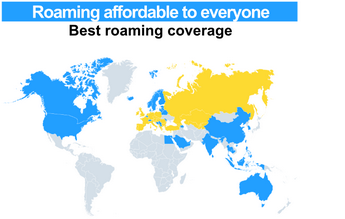 Valid 6 months without top-up
3G-4G internet and Calls for 36 countries in Europe.
Roaming affordable to everyone
1. First Countries Group
Armenia, Austria, Albania, Bulgaria, Vatican, Gibraltar, Great Britain, Hungary, Germany, Greece, Georgia, Ireland, Italy, Kazakhstan, Kyrgyzstan, Canary Islands, Spain, Cyprus, Malta, Monaco, Netherlands, Poland, Portugal, Romania, Russia, San Marino, Slovakia, Slovenia, Tajikistan, Turkey, Uzbekistan, France, Corsica, Croatia, Montenegro, Czech Republic
Calls:

 

1€ per day for every 15 minutes of incoming and local calls in total





3G-Internet:

 

1.2€ per day for every 100Mb





SMS:

 0.8€ per day for every 25 SMS

No any monthly payments!!!


The money is spent only on the days of using SIM-card
--
2. Second Countries Group
Australia, Azerbaijan, Åland US, Belgium, Virgin Islands, Bosnia-and-Herzegovina, Hawaii, Hong Kong, Denmark, EGYPT, Israel, INDIA, Indonesia, Cambodia, Canada, Qatar, CHINA, Latvia, Lithuania, Luxembourg, Macedonia, Malaysia, Moldova, Norway, United Arab Emirates, Saudi Arabia, Serbia, Singapore, Estonia, USA, Thailand, Philippines, Finland, Switzerland, Sweden, SRI LANKA, South Korea
Calls:

 2€ per day for every 15 minutes of incoming and local calls in total





3

G 

Internet:

 2€ per day for every 100Mb



SMS:

 0.8€ per day for every 25 SMS

No any monthly payments!!!


The money is spent only on the days of using SIM-card
-----------------------------------------------------------------------------------------------------
F.A.Q

How to make a manual Internet settings?
The data settings allow "data roaming".
The data settings of your device, set the APN: www.ab.kyivstar.net

How to make a call or send SMS?
Use the international dialing format while being abroad:
[+] [country code] [city code / mobile network code] [subscriber's number].
How to check and replenish your account?
There are some options to top up account balance in roaming
On-line via kyivstar.ua or «My Kyivstar». All you need is access to the Internet and your bank card. Use: https://pay.kyivstar.ua/en/
If you plan to top up account balance abroad using bank card:
Make sure your card is opened for Internet-payments.
Advise the bank your are going abroad in order to ensure your payments using your card are not blocked when in roaming.
To check account in roaming, dial *111#. USSD commands are not charged.
How to contact the operator?
There are several options:


Contact us via Viber (+380670000466)
Send a request *105*466#. Wait for an incoming call from the number
+380672222466.

The cost of one minute of conversation is 0.2€ (with all taxes and fees)
You can find details on the service site Kyivstar Help in Roaming.
Features of roaming services for prepaid subscribers
Please note! The outgoing calls and SMS are temporarily unavailable for the prepaid

subscribers in the following countries:
Aland Islands (Finland), Andorra, Angola, Bahrain, Bangladesh, Belize, Benin, Bolivia, Botswana, Brunei, Burkina Faso, Gabon, Guyana, Gambia, Ghana, Guatemala, Guinea, Honduras, Democratic Republic of the Congo, Ecuador, Equatorial Guinea Ethiopia, Yemen, Zimbabwe, India, Iran, Cape Verde, China, Colombia, Costa Rica, Cote d'Ivoire, Cuba, Kuwait, Liberia, Lebanon, Libya, Liechtenstein, Mauritania, Madagascar, Macau, Malawi, Mali, Mozambique, Namibia, Nepal, Niger, Nigeria, Netherlands Antilles, Nicaragua, Oman, Panama, Paraguay, Peru, South Korea, South Africa, Puerto Rico, Rwanda, El Salvador, Swaziland, Seychelles, Syria, Suriname, Sierra -Leone, Taiwan, Tanzania, Togo, Tonga, Uganda, Uruguay, Faroe Islands, Fiji, French Polynesia, Chile.
You can receive incoming calls and SMS in these countries and use mobile internet as well.
Also you can use Feedback and Call me back in roaming. We are working to make all the roaming services available for every subscriber.
What is the validity term for bundled minutes, SMS and megabytes
Bundled minutes, SMS and MB are valid till the end of the day, during which they have been ordered (till 23:59:59). We rely on the Kyiv time. The unused minutes, SMS and megabytes will be cancelled.

Check the exact Kyiv time by using the request *106#
How many bundles a day are available
Maximum number of bundles a day for calls, SMS and megabytes is 20.
For contract subscribers 20 packages are provided for mobile Internet and for prepaid subscribers - 72 packages Rates after using the maximum number of roaming bundles:
Call minute – 0.12€;
Mobile internet – is not providing till the end of the day;
1 SMS – 0.05€.
The tariffs are indicated inclusive all taxes.
---------------------------------------
We ship worldwide, to your home, hotel or where you like!