Lycamobile Navega XXL

- prepaid sim cards, Super Fast

20GB

for Spain 4G Internet

4G ON SMARTPHONE, IPAD, USB MODEM, TABLET, NETBOOK OR WIFI/MIFI ROUTERs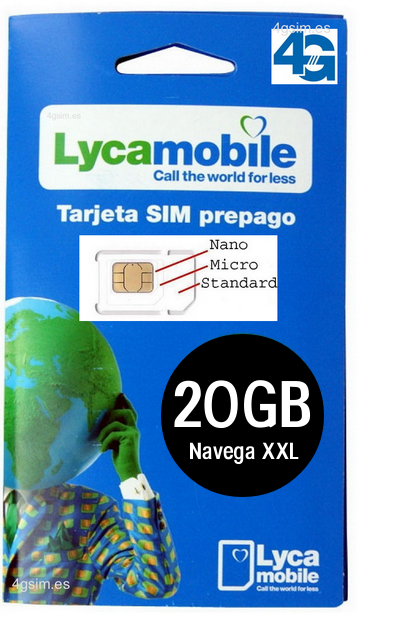 TARIF - 20GB (Navega XXL)

This card is recommended for: Customers who need 4G-Internet in SPAIN
-
- Sim-card

:

Lycamobile 20GB for Spain




- Pay As You Go - PayG


- Includes 20GB for 4G internet


- Upon the expiry of 30 days

, the renewal price

for the Internet services costs:

25

€

pro month!

- DELIVERY all world
- We activate the SIM card in your desired dates !!!
-
- Without permanence
We give the best service, you stay because you want to. 90% of our customers come recommended, in Lycamobile
not need to make prisoners or sell the bike. We do not want to tie you to any offer nor force you to anything. You are free, our phones are free and can leave when you want to. It's that simple, we give you the best service and you stay because you want to. The Pay As You Go International SIM Lycamobile with over 15 million customers enjoying the Lycamobile brand and a new customer joining every 2 seconds. Lycamobile's mission is to connect friends and family around the world. As the world's biggest international mobile virtual network operator (MVNO), Lycamobile provides low-cost, high-quality data and voice services to over 15 million customers. It is now expanding to offer a broad range of financial and travel services, including Lycamoney and Lycafly, that help people stay in touch across borders. 4G Internet will give you an opportunity to realize an instant search in network MOVISTAR and is able to keep the speed up to 80 Mb/s.
---
SIGNAL

COVERAGE

-

4G MOVISTAR
4G Internet in all Spain provinces over Ceuta and Melilla.


-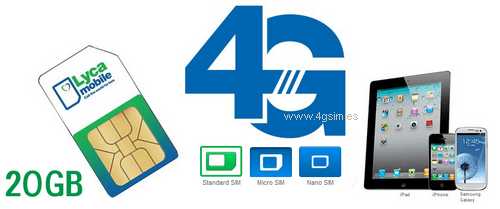 We use the MOVISTAR network, so do not worry, you can talk with

Lycamobile

and navigate where you want to. In

Lycamobile

use Movistar coverage, with whom you can talk and surf almost 99% of the national territory. If you want to check just ask any friend who has

Lycamobile

/ Movistar in your area or take a look at our coverage map.
4G SPEED
Lycamobile updated network to 4G + so your speed has almost no limits up to 300 Mbps in ideal conditions. In practice, the actual speed depends on multiple factors and often fluctuates at the margins indicated below.
Download:

from 8mb/s up to 50mb/s.
Upload Speed: 26mb/s.
Maximal speed in 4G network in Spain goes up to 300 mb/s. The average speed for users can be slightly lower and can depend on the certain circumstances:
• Equipment characteristics;
• Landscape peculiarities and metrological conditions.
---
Top up
To replenish the balance of the SIM card, to extend the tariff -

you can here
---
We offer you the fully wireless Internet connection and give you an access to the world of 4G Internet on any territory of Spain.
Works on any territory of Spain



Super
Fast and instant 4G Internet.

Being always connected to the Internet in Spain is the best solution!

Delivery to any territory.
4G SIM-CARD It works on all 4g-3g Devices

4G Internet provider guarantees you the secrecy of your personal data and has a high level of protection from any illegal access.
Best 4G internet services in Spain
------------------------------------------------------------------------------------------------------------------------------------------
This card is recommended for: Customers who need 4G-Internet in SPAIN

------------------------------------------------------------------------------------------------------------------------------------------
Note: We will register for you with your personal dates provided this SIM card. We need the ID card number or passport and date of birth in order to activate it.
-

We ship worldwide, to your home, hotel or where you like!

Sim-card is activated at the date you need!

-
With tracking and drop-off without signature. If you prefer delivery by UPS Extra with required signature, an additional cost will be applied, so please contact us before choosing this method. Whichever shipment choice you make, we will provide you with a link to track your package online.