90GB Super

Fast 4G INTERNET for Spain

4G ON SMARTPHONE, IPAD, USB MODEM, TABLET, NETBOOK OR WIFI/MIFI ROUTERs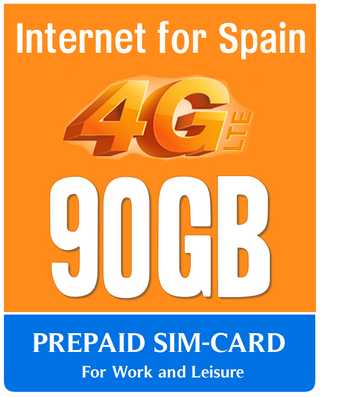 The residents of Spain, whose houses remained unconnected to ADSL Internet, have now the possibility to obtain full reliable access to global network in Spain or to connect to fast 4G Internet as well.
4G Internet is nowadays the most progressive and the fastest communication technology.
4G Internet will give you an opportunity to realize an instant search in global network and is able to keep the speed up to 50 Mb/s.
Using fast 4G Internet you will be able to make an instant load of any websites, listen to your favorite music and watch films online, and to download any files as well.
SERVICE PLAN:
4G INTERNET 90GB

- Price: 75€
- Price includes: Sim-card, 30 days of 4G-Internet's use, Signing up for the service
- Upon the expiry of 30 days, the renewal price for the Internet services costs: 65€ pro month!
- Activation of the SIM card occurs at your request on the date you need
This card is recommended for: Customers who need 4G-Internet in SPAIN
4G INTERNET

-

SPEED IN SPAIN
Download Speed: from 10mb/s up to 50mb/s.
Upload Speed: 25 mb/s.

Maximal speed in 4G network in Spain goes up to 50 mb/s. The average speed for users can be slightly lower and can depend on the certain circumstances:
• Equipment characteristics;
• Landscape peculiarities and metrological conditions.
-
SIGNAL

COVERAGE -

ALL SPAIN
4G Internet in all Spain provinces over Canary Islands, Ceuta and Melilla.

The leading Spanish operator provides the users with the regular and stable signal coverage across the whole territory of Spain, what makes possible to connect to the Internet from private homes, apartments, flats or from the office on any territory of Spain.
-
We offer you the fully wireless Internet connection and give you an access to the world of 4G Internet on any territory of Spain.

Works on any territory of Spain


Super Fast and instant 4G Internet.

Being always connected to the Internet in Spain is the best solution!

Delivery to any territory of Spain within an hour is available.

4G SIM-CARD unlimited It works on all 4g-3g Devices

4G-3G Internet provider guarantees you the secrecy of your personal data and has a high level of protection from any illegal access.

Best 4G internet services in Spain
---------------------------------------